Chicken Alfredo Biscuit Casserole, that's what! I made this for dinner last night and it was a hit with Chris. (and me!) It was very, very yummy and I'll be sure to add this to the regular rotation.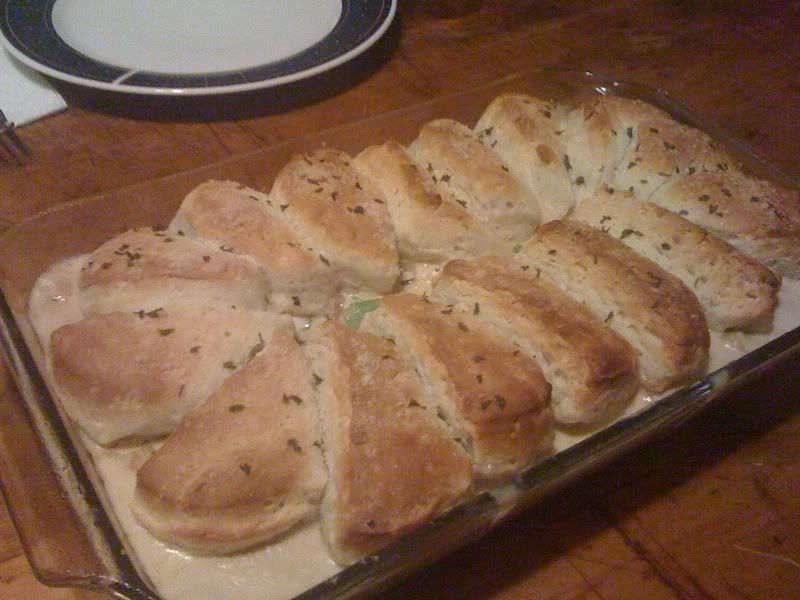 The recipe if from Pillsbury's Web site. I was in to mood for some chicken and biscuits, so I did some internet searching to find a decent recipe. An Alfredo dish wasn't quite what I originally had in mind, but when I saw the recipe, I knew I had to give it a try.
Here's the recipe from
Pillsbury
:
Chicken Alfredo Biscuit Casserole




Parmesan-crusted biscuits top this mouthwatering chicken Alfredo casserole that is sure to become a family standby.


Prep Time:

Total Time:

Makes:

INGREDIENTS

| | |
| --- | --- |
| 1 | tablespoon butter |
| 2 | cups sliced fresh mushrooms |
| 1/2 | cup chopped onion |
| 1 | jar (16 oz) Alfredo pasta sauce |
| 1/4 | cup milk |
| 2 | cups chopped cooked chicken |
| 2 | cups Green Giant® SELECT® frozen broccoli florets, thawed |
| 1/4 | teaspoon dried basil leaves |
| 1 | can (7.5 oz) Pillsbury® refrigerated buttermilk biscuits |
| 1 | tablespoon butter, melted |
| 1 | tablespoon grated Parmesan cheese |

DIRECTIONS




1.
Heat oven to 375°F. Spray 8-inch square (2-quart) glass baking dish with cooking spray.
2.
In 10-inch nonstick skillet, melt 1 tablespoon butter over medium heat. Cook mushrooms and onion in butter, stirring occasionally, about 5 minutes or until tender. Stir in Alfredo sauce, milk, chicken, broccoli and basil. Cook until mixture is thoroughly heated and bubbly, stirring constantly. Spoon into baking dish.
3.
Separate dough into 10 biscuits. Cut each biscuit in half crosswise. Arrange around edge of baking dish, overlapping slightly. Drizzle biscuits with melted butter; sprinkle with Parmesan cheese.
4.
Bake 15 to 20 minutes or until biscuits are golden brown.




This is one of those comfort-food type recipes and it's great for whipping up for a quick, but home-cooked tasting meal. I skipped the basil and added a few shakes of parsley flakes to the top for garnish.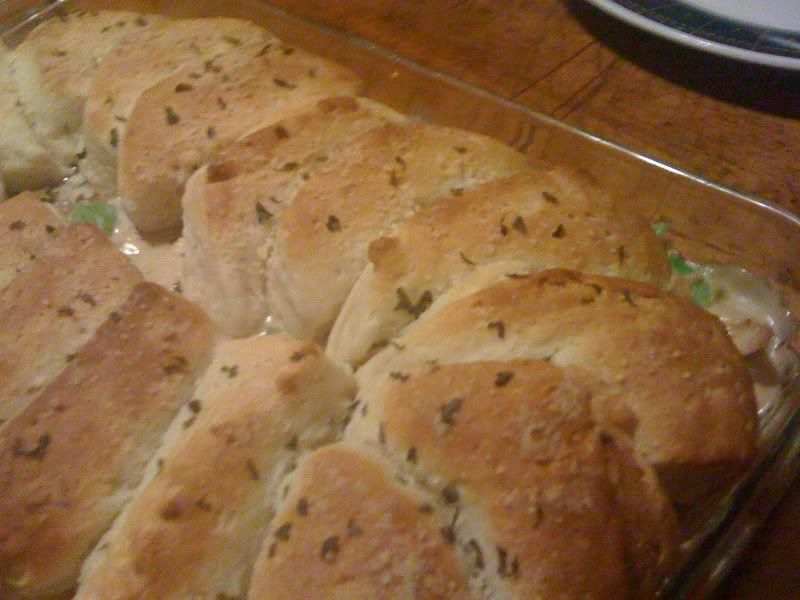 When I do this again, I will probably take off a few layers of the biscuits before baking (I used Grands) because their thickness left them a little doughy. I didn't want to bake them any longer for fear of burning the tops. (It was in the oven for 20 minutes.) Personally, I didn't mind the extra doughy-ness, but I'm not sure about others eating it and feeling the same way.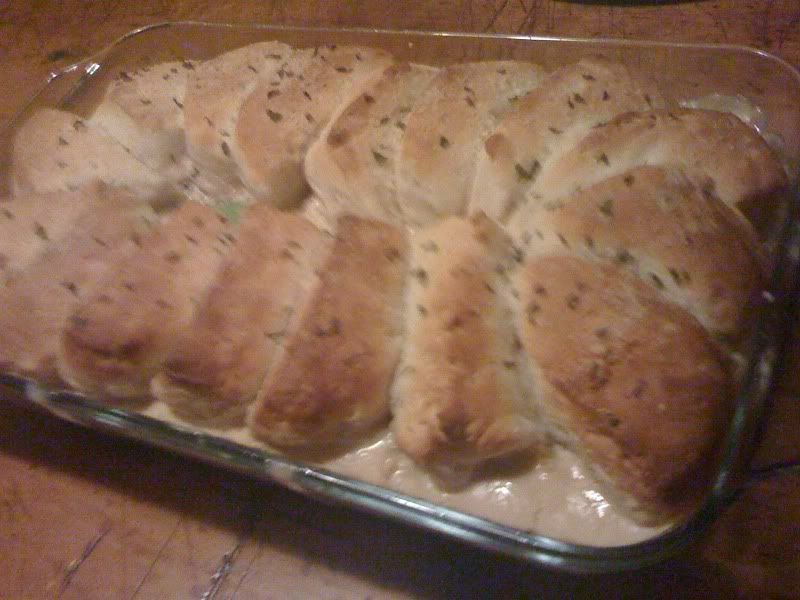 I love casseroles, especially when they are a complete meal. And this was very easy. It looked great, tasted great and filled the kitchen with a yummy smell. All around yummy! Thanks, Pillsbury!