One of my friends, Erin, is having a baby! She and her husband are expecting their first little bundle of joy in November and I'm so excited for her!
They found out at their ultrasound appointment that they are expecting a girl, and Erin has already set a theme for the nursery. (Ladybugs!)
I've decided that, aside from what I'll purchase for the baby from the registry, I would knit a baby blanket for her. The shower will be in October (I'm also making the cake) and I wanted to get started on it now while I had some extra time. With most of the projects Chris and I can tackle for the house currently on hold until we have some work done to the walls and plumbing, I figured now would be a great time to get started.
When my sister was expecting my niece, I whipped up an acrylic yarn version of the Big Bad Baby Blanket, a pattern featured in the first Stitch'n'Bitch Book by Debbie Stoller. I used a pink yarn with specks of blue, purple and yellow and the end result was a cute blanket with a tweed look!
I've decided to use the same pattern because I love how the pink one turned out and I wanted something easy enough to work on while watching TV.
For Erin's baby's blanket, I purchased Lion Brand's Baby Soft in Cream: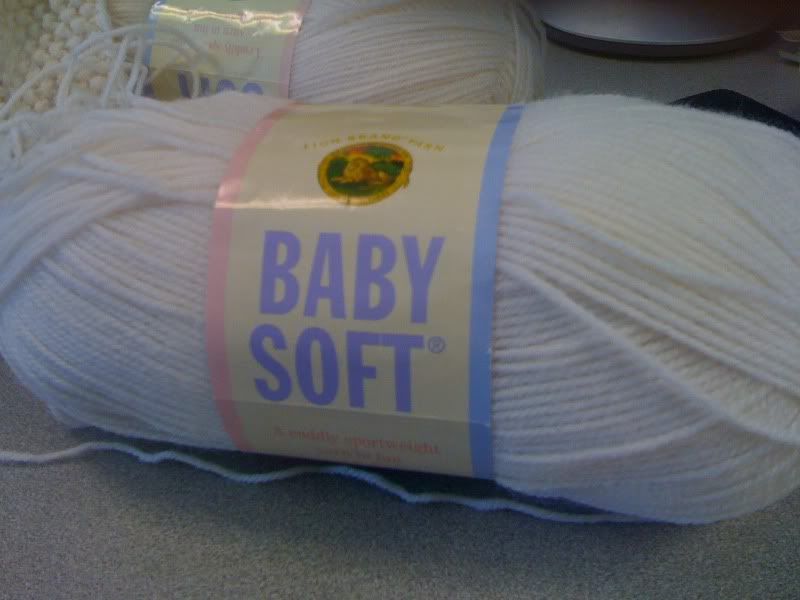 The project calls for knitting with two skeins at the same time, so I picked up four skeins at Michael's yesterday while they were on sale. (2/$7.00) I also bought a pair of size 9 bamboo circular knitting needles for the project.
Even though the pattern calls for wool, I chose the acrylic yarn because I want the blanket to be easy to clean. I would hate to invest all of my time (and money!) on a wool blanket and have the parents-to-be accidentally wash it the wrong way and ruin it. I used acrylic on the first one I made and it's still going strong and looks great.
After working on it last night for about 30 minutes and during my lunch break today, I've only finished 12 rows of seed stitch. (126 stitches across) I have to complete 20 rows before I can move on to the much easier stockinette stitch pattern that makes up the bulk of the blanket. I'm hoping to finish the last 8 rows of seed stitch tonight. The seed stitch serves as the border in this adorable baby blanket.
Here's my progress so far:
So, that 1,512 stitches finished so far and about 18,648 to go!