We had to pick up two recessed lighting units for our kitchen, so when we popped in to Lowe's to check out the options, we also found some suitable light fixtures for other areas in our home.
For our bedroom, we currently have a ceiling fan. I have some weird fear of having ceiling fans over my bed, so Chris indulged my wish to swap it out and we picked up a semi-flush mount fixture to coordinate with our bedding.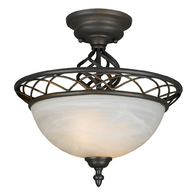 Since our ceilings are on the low side, we liked that this one had a little bit of visual interest without hanging down too far into the living space.

For the other two upstairs bedrooms, we picked up a 2-pack of inexpensive flush mount fixtures. They are the same style as this one, but in a brushed nickel finish.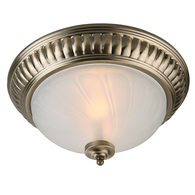 For our downstairs bathroom, we decided on a bar-style vanity light. We don't have a lot of wall space, so the three-bulb fixture will fit nicely.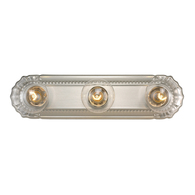 We are planning on using frosted, soft white bulbs.

And, even though we bought these a while ago while picking out other items for the upstairs bathroom, here are the fixtures we purchased for the upstairs bathroom.

This vanity light: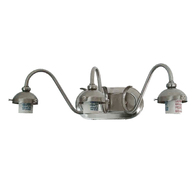 With these alabaster bell glasses: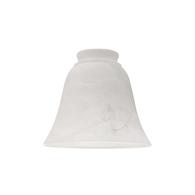 And this overhead fixture with built-in ventilation: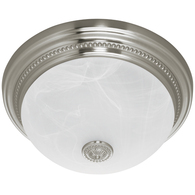 I love how you can't even tell this is a fan light by the looks of it. It runs very quietly, too!

So, that's what we've decided on so far. We thought about purchasing the dining room and kitchen overhead lights, but we decided to wait until we knew where our table would sit. If space issues don't allow us to put it in the center of the room, we don't want a chandelier hanging from the middle of the ceiling. And, since the dining room is open to the kitchen, we want the fixtures to coordinate.

For the price and the style, we will probably purchase another 2-pack (both lights are just $19.99!) in brushed nickel for the downstairs bedroom and bathroom overhead lights. Our living room will be light with lamps, so we'll choose those once we pick out the furniture.

Weird, but picking out light fixtures gets me a little excited. It means we are one step closer to moving in!