I decided to join in the fun on A Soft Place to Land's DIY Day. I figured I'd use this post for my first time participating.
I was so excited to have the opportunity to make a cake for Erin's baby shower! I started last Tuesday by baking and freezing the cakes. On Thursday, I made the marshmallow fondant and some butter cream icing. Then, on Friday, I put the cakes together and decorated them.
The process was long, but I enjoyed the creative outlet. I experimented with several new things for this cake and was really pleased with the results. So, without dragging it out any farther, here is the cake:
And, in case you can't make out the little guy on top, here is a close-up of that:

I modeled the lady bug after the one on the nursery set (pink and red flowers are from it, too) and the baby booties are made from a template I found on
Cake Central
. The cake is covered in fondant and the 3D accents are all made from gumpaste. The pearl dragees are left over from my wedding cake and I used the dot impression mat to make them look so perfectly spaced.
Some more details: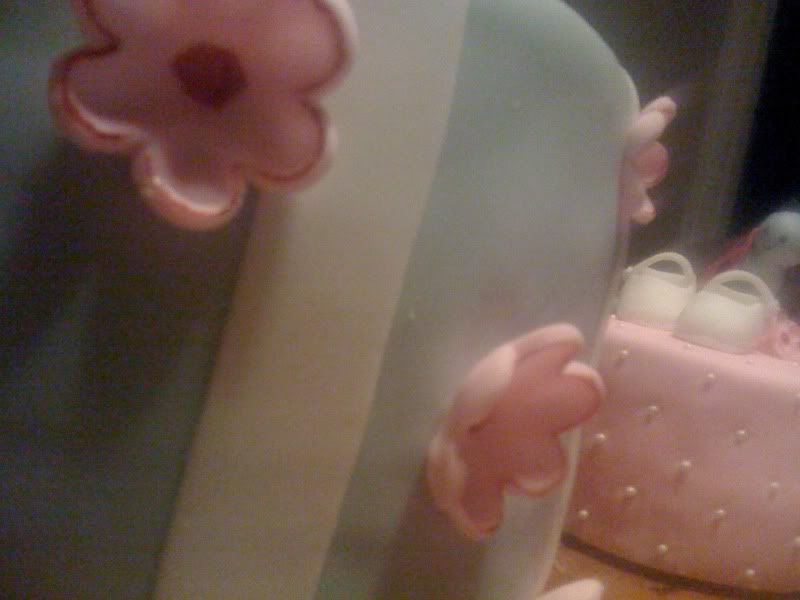 And, all cut up, ready to be enjoyed!


Top slice (top tier of the cake) is white cake with butter creme and strawberry filling.

Middle slices (bottom tier) are chocolate fudge cake with chocolate butter creme filling.

Bottom slices (middle tier) are yellow cake with Oreo creme filing.

All were yummy!