My office Christmas party was at my boss' house this year and I didn't want to show up empty handed. I don't like to bring wine since I don't really drink it myself, or know what kinds are good, so I decided to put together a hostess gift that was a little more my style---a cupcake pan candy buffet.
Here is what you need:
One cupcake/muffin pan (Mine had 12 cups)
Cupcake liners (12)
12 different candy varieties
Shrink wrap bag
Twist tie
Ribbon
Small decoration or Christmas ornament
1. Place a liner in each of your cupcake pan cups.
2. Fill each cup just to the top with a different type of candy.
3. Place the pan in a shrink wrap bag and gather it at a side or near the top. Secure with a twist tie.
4. Use a hair dryer or heat gun to shrink the bag loosely around the candy, being careful not to melt any chocolate. This takes away the excess plastic without getting it so close that the bag melts into the candy.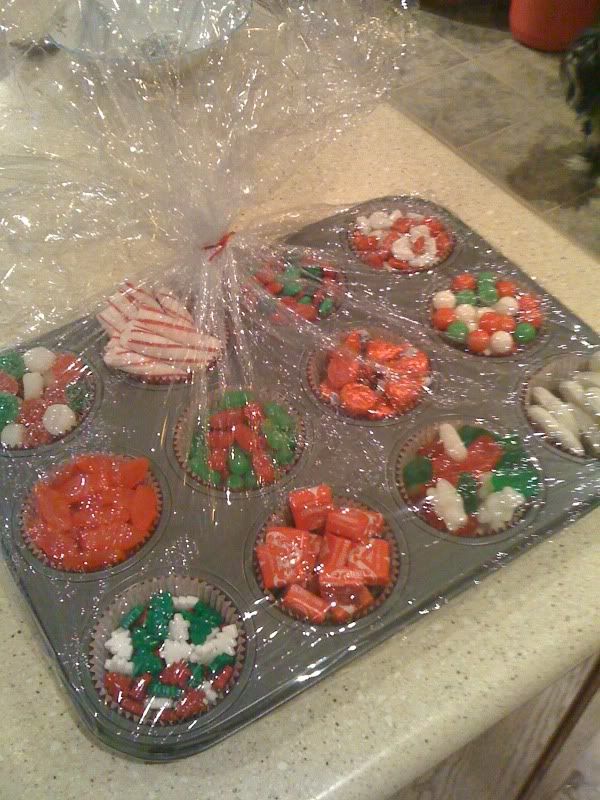 5. Use ribbon to tie on a bow. Add a Christmas ornament to dress it up.
And there you have it! A quick and easy gift any hostess would love to receive!

Tips:

Check out the bulk candy section of your local grocery store to get just the right amount of candy for each cup without having to buy larger, prepackaged bags. This is also great for buying specific colors. I was able to pick out red, green and white candies from a bin with lots of different colors.
The Christmas candy aisle at Walmart had a great selection of stocking stuffer sized candies in Christmas colors. I was able to pick up a few varieties and they were a decent amount for filling the cups.
I used Christmas colored candies, but this can be altered for other holidays by changing the colors or the contents.
I purchased a nice pan at Target for about $7.00. I figured it was worth it since, if making a gift basket, the price for a basket would be about the same, and I know that the recipient would be able to use the pan confidently for making muffins or cupcakes later on. (or, I didn't want the pan to sell at their next yard sale, if you know what I mean.)
Here are the candies I used:
Red, white & green Gummy Bears
Red, white & green Sugared Gummy Dots
Hershey Kisses
Red Swedish Fish
Red, white & green Gobstoppers
Mini Peppermint Sticks
White chocolate covered pretzels
Red Starbursts
Red and White Chiclets Gum
Red & green M&M's
Red, white & green Christmas Star Candies
Red & green Mike 'n' Ike's
I think the total cost for putting this together was about $20 - $25 and I had a little bit of candy left over. I'm not sure what a good bottle of wine would cost, but I would guess you'd spend about the same.

I really loved how this turned out and it was very well received! What do you usually bring to parties as a hostess gift?