A church friend recently had a baby shower and the invitation encouraged all guests to bring a book for the baby instead of a card to accompany the gifts. This is a cute idea because it helps build the baby's library. I was trying to think of what gift to give them and was a little stuck. With all of the new home expenses, I was feeling a little poor and the handful of items I could afford from her registry were either already purchased or not too exciting to give. I'm normally a registry-gifter, so I kind of surprised myself by going the DIY route on this one.
The idea for the gift just kind of hit me. I thought it would be cute to make a little book plate for the book/card I'd buy, so I raided my craft supplies for baby-themed scrapbook paper. I didn't really have much, but I did have a tablet of pastel stripes, polkadot and patterned paper that would work.
I made a quick design in Adobe Photoshop Elements, printed it out on pink cardstock and matted it on a rectangle of pastel striped scrapbooking paper. I was so happy with how it turned out that I decided to make a bunch of them and give them as a gift. She was going to be getting a lot of books for the shower if everyone complied with the no card request, so why not? I picked up a small tin and a spool of cute $1 ribbon at Michael's for the packaging and then got to work on making the book plates.
I changed the design to be a little more unique. I like how the book plates can also serve as a journal for keeping track of when and with whom the book was read.
Here's the final product:
A close up of the text:
I used photo square stickers as the adhesive for placing them in the books. All you have to do is peel off the backings and stick them inside the front cover.
Here they are in the tin:
And here they are all wrapped up and ready to go: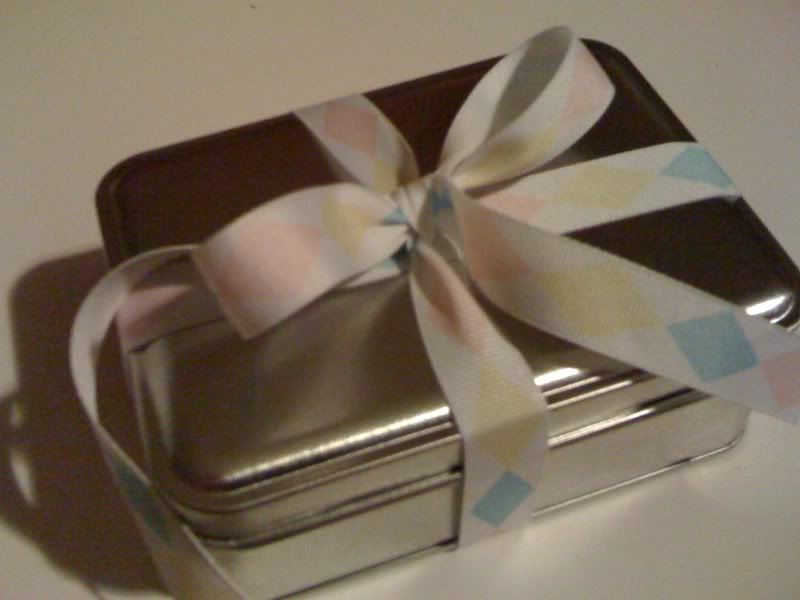 I think the whole project took me less than an hour. The longest part was cutting out the book plates and rectangles for matting.