Next on our to do list was the scary, school bus yellow bedroom. While the cigarette damage wasn't as bad in this room, covering the bright colored wall presented a challenge. We knew our problem was no match for Kilz and primed that obnoxious room with their Premium product, a primer designed to both block stains and hide colors. It's also good for mildew-prone areas, but we were more interested in its ability to cover up the hideous paint colors left for us by the previous owner.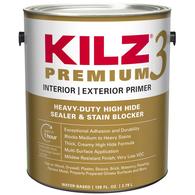 So, here we go. Scary yellow wall before primer:

(Yes, there were that many holes and imperfections in this wall. We had to do a lot of patching)

Scary yellow wall during the priming:

And no more scary yellow wall!

Now, with a blank slate, we began brainstorming on a color for the wall. Since this room will be our guest bedroom, we wanted to make it a peaceful and serene color that was anything be the yellow it once was. After looking at what seemed like hundreds of paint chips, we decided on Glidden's Soft Meadow:

And, I think it looks wonderful!

And with the trim painted in Behr's Traditional:

The room looks about a million times better and I can't wait to start putting stuff in here. We probably aren't going to refinish the hardwood floor in this room because, between furniture and area rugs, most of it isn't going to show. And, outside of a few pink paint splotches, the floor is in decent shape.

It is so nice to be done painting in at least one of the rooms! Yay for progress!