While we've been busy painting the bedrooms upstairs, my father-in-law has been busy with the kitchen improvements.
To recap, we removed the old metal and birch cabinets, removed a wall, took out a closet in the living room to expand the width of the area, did a complete overhaul of the plumbing and electric and purchased cabinets used on ebay.
With the plumbing replacement, some of the wall plaster and the entire ceiling in the kitchen had to be torn down. New drywall has been installed there and the patching process has begun. He also built a new wall where we removed the closet. One of the coolest and most unexpected additions to the kitchen has been the bulkhead above where the cabinets will go. He put this in to eliminate an area that would only be good for collecting dust. We won't be able to use any crown molding on top of the cabinets now, but I think the bulkhead will give it a nice, professionally-finished look. And, it will give us a little bit of wall space we can paint for an added pop of color in the room. (I also have visions of getting a wall cling with a cute saying from somewhere like
Uppercase Living
---maybe this
one
?)
Again, crappy iPhone photos, but you can see the 6-inch bulkhead at the top of the wall: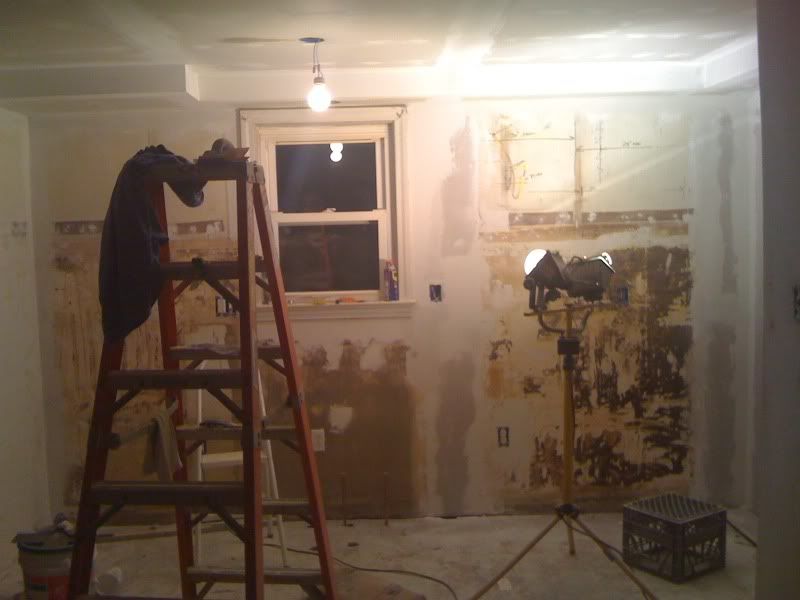 Yeah, the area looks a little scary right now, but the base and wall cabinets, appliances and tiled back splash will cover all of the ugly parts. The ugliness is the result of wood paneling attached with liquid nails.

This is the new wall where the closet once was.

Oh, and he even put in a recessed light above the sink and two above where the peninsula will go. (It will separate the kitchen from the dining room and house the dishwasher.)

We've been patching and sanding for the last few days. Basically, we have to get this prepped, primed and painted before Chris' dad can do anything with the cabinet and appliance installation.
We still need to buy three more cabinets from Lowe's to match our used set, a fridge, the tile for the back splash and floor, the counters and possibly a new stove.