Yes, I know posting has been very light lately. I guess you could say our renovations have been a little less talk and a lot more action for the month of November. We have been very busy painting. VERY busy painting.
We started in the smallest bedroom. As of now, we plan on using this room for an office, but it will probably be converted to a nursery whenever we get around to having children. This room also had the most noticeable cigarette smoke damage of all the rooms. The walls and ceiling were a slight off-white when we scrubbed them down, but the smoke made them more of a light brown. It was pretty gross!
We wanted to be sure the discoloration was completely covered by primer before we painted. And with the amount of smoke damage, we pulled out the big guns to get the job done.
We purchased Kilz Complete because it promised to p
rovide excellent adhesion, hide imperfections and block smoke and nicotine stains on walls. Just what we needed! It's an oil-based primer, so it was really thick, smelled really bad and was a pain in the butt to clean up. But, it was worth it! It did exactly what we wanted it to do. This stuff really works!
Here is a picture of the room when we just started to prime it. Since the primer is super bright white, you get the idea of exactly how nasty the cigarette smoke stains were. Oh, and we cleaned it some with soapy water before painting.

The ceiling:

(See? I told you it was nasty!)



And the walls:
The happy face of progress: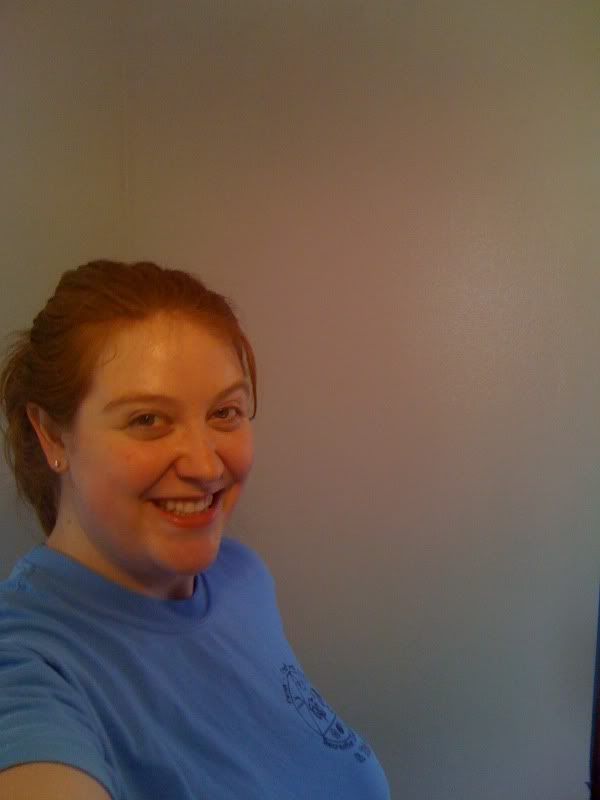 Yes, I was a little to excited to have progress I could actually see. And to see all of the bad stuff disappear.
Chris is happy to see the bad stuff go away, too!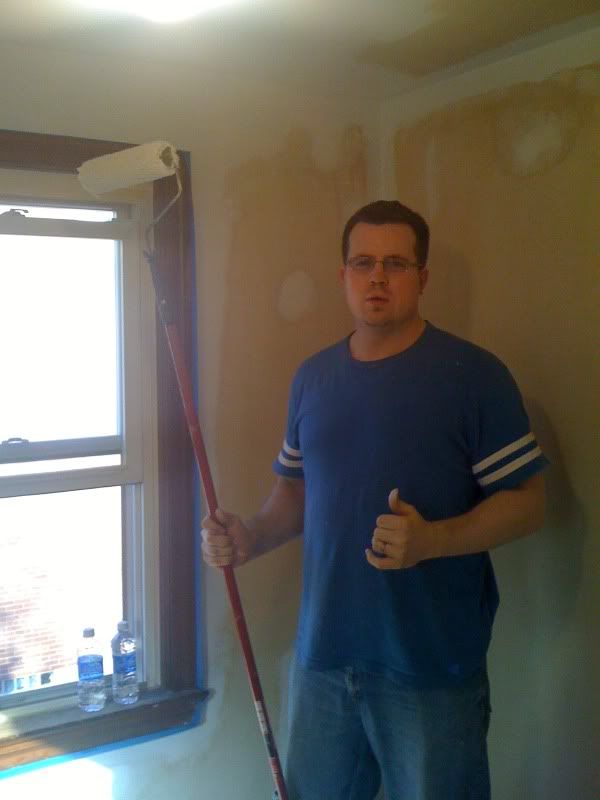 We ended up going back and priming the trim. (That was not part of the original plan.) Using this space for an office and possibly a craft room made us want to pick a more energizing and creative color for the room without going too nuts. We wanted something with a little more darker color than what we picked for the other bedrooms on the second floor, but not too dark because of the small size of the room.
We settled on Glidden's Antique Silver. A nice grayish-blue that would be dark enough to be noticeable without being obnoxious.
And here's the room after we put the color on the walls:
I guess my iPhone doesn't really take the best pictures, but for now, this will have to do. The color is a little darker than it appears in the pictures.
I really like how it turned out! I think the dark brown trim will look great and the dark stained office furniture we already have (thank you, The Price is Right!) will fit right in. The floor will need to be sanded down and refinished in this room thanks to some very bad pet stains. We'll be painting the trim this weekend and then we'll get started on the floors. The work never ends!