Monday was a momentous occasion for us----we celebrated our first wedding anniversary! We've been through a lot in the last year. But no matter what life gave us, we took each challenge as an opportunity to grow together in love and as a couple. We celebrated the day by enjoying a fancy dinner at The Capital Grille in the 'Burgh and then went home to enjoy the top tier of our wedding cake.
For those of you that don't know, my sister and I made my
wedding cake
. It was a hybrid of real and fake tiers with sheet cakes being served from the kitchen. Our top tier was a decorated cake dummy. In order for us to do the traditional wedding cake sampling on our anniversary, I had to make a replica of our cake as a substitute for the fake one.
Here's how it turned out: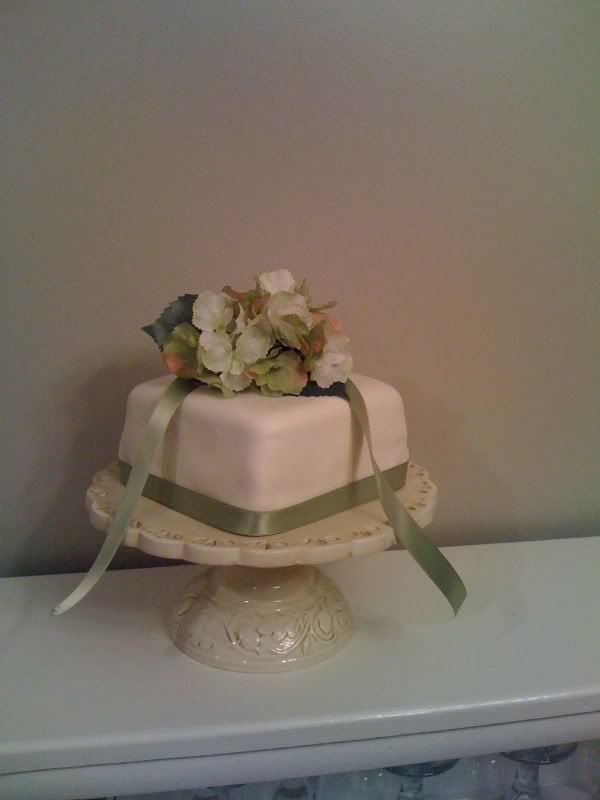 Courtesy of my iPhone---sorry for the poor lighting.
And, for comparison sake, a shot of the original: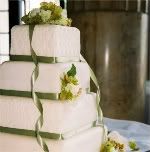 At the request of my Mr., the anniversary cake was fondant-covered carrot cake with cream cheese frosting and filling. It was yummy! I tweaked the recipe I've used in the past and swapped out some of the fresh grated carrots for a few jars of carrot baby food. This intensified the flavor and made it very moist. I was really impressed with how it tasted.
I know some couples enjoy eating their frozen tier, but fresh-baked cake is better than frozen any day. Ours was delicious!
Here is the recipe, in case any of you are interested:
CAKE:
2 1/2 cups all-purpose flour

2 tsp. baking soda

1/2 tsp. ground cinnamon

1/8 tsp. ground allspice

1/2 ts salt

2 cups sugar

1 cup vegetable oil

2 lg eggs; at room temperature

2 tsp. vanilla extract

3 cups grated carrots (swapped with four 4-ounce jars carrot baby food)

One 8-ounce can crushed pineapple; well drained

3/4 cups chopped walnuts (I omit these because I don't like them)

1/2 cup raisins
FROSTING:
8 ounces cream cheese; at room temperature

4 tbsp. (1/2 stick) butter; at room temperature

1 tbsp. half-and-half or milk

1/2 tsp. almond extract

1/2 tsp. vanilla extract

4 cups confectioners' sugar (1 pound)
Directions
To make the cake:
Preheat the oven to 350 degrees. Lightly butter and flour a 13 x 9-inch baking pan, tapping out the excess flour. Sift the flour,baking soda, cinnamon, allspice, and salt together and set aside. In a large bowl, using an electric mixer at high speed, beat the sugar, oil, eggs, and vanilla until well combined, about 1 minute. Mix in the carrot baby food. With the mixer on low speed, beat in the flour mixture, scraping down the sides of the bowl as needed, and mix until smooth. Using a wooden spoon, stir in the pineapple, chopped walnuts, and raisins. Spread evenly in the prepared pan.
Bake until the top springs back when pressed lightly in the center, about 1 hour. Cool completely in the pan on a wire cake rack.

To make the frosting:
In a medium bowl, using an electric mixer at medium speed, beat the cream cheese, butter, half-and-half, and almond and vanilla extracts until smooth, scraping down the sides of the bowl with a rubber spatula. With the mixer on low speed, gradually beat in the confectioners' sugar.

Spread the frosting over the top of the cake. Cut into 15 pieces. If desired, garnish each piece of cake with a walnut half.